Schola Cantorum Riga - where past meets present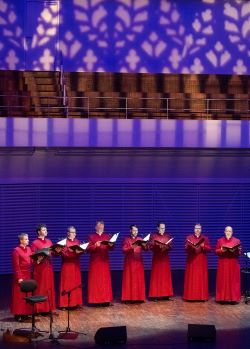 For already more than two decades, Schola Cantorum Riga has regularly performed Gregorian chant and other early music repertoires, basing its interpretation on studies of the oldest neume manuscripts. Over the years, it has developed into a group with a very broad and diverse repertoire.

Its main goal is to perform music at a high artistic and professional level, which is reflected in the group's many concerts in Latvia and abroad as well as its regular recording projects. Although Schola Cantorum Riga mainly performs Medieval music, it also occasionally performs compositions by contemporary composers (Rihards Dubra, Henning Sommerro, Nic Gotham, Renāte Stivriņa, etc.), which have often been created specially for the group.

One of Schola Cantorum Riga's most important venues is Riga Cathedral, where it has realised countless concert projects encompassing early music as well as premieres of compositions by contemporary composers.

The group regularly takes part in concerts and early music festivals in Latvia and abroad, where it has enjoyed the undivided attention of audiences in Italy, Switzerland, Germany, Austria, Belgium, France, Poland, Norway, Finland, Estonia, Lithuania and elsewhere.

In 2017 Schola Cantorum Riga was nominated for the Latvian Grand Music Award for outstanding performance.